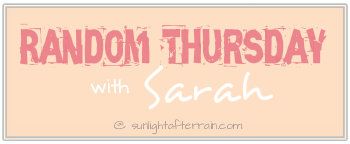 Hi friends. I have a few people I want you to meet:
Linny
is my favorite. She's funny, down-to-earth and isn't afraid to tell it like it is. Everyone needs a friend like her.
Em
is the best. She's beyond creative and just downright hilarious. If you don't know her, you should.
We're three good blog friends who like to talk about random things. So we decided to throw all of our random thoughts together every Thursday and have some fun with it. If you want, you can join us too. We don't bite.
This week, we are talking about what we are currently obsessed with...
I don't know about you, but I go through streaks where I have to have something and they are all I can think about.
Here are a few of those things for me right now.
Haute as Hello by Essie
In general, I am obsessed with nail polish right now. Blame it on the cute boys at work or the lack of things I have to do on a daily basis. Whatever the reason, this color keeps popping up on my nails. Perfect for the summer, don't you think?
We Are Never Ever Getting Back Together by Taylor Swift
I feel really silly saying that I like this song. I mean, I am 21 and about to be a senior in college - Taylor is for preteens, right? However, even though her songs are simple I find that they are often relevant and easy to relate to. Especially her new song We Are Never Ever Getting Back Together which is slowly becoming my new anthem.
Decorating my apartment
This one is preemptive. But I can be obsessed with something that is on the way, right?? I move into my apartment this Wednesday and I am so very excited. My roommates and I all keep messaging each other on Facebook with decorating ideas, the 'move-in' party we are going to throw for ourselves and the beach trip we are going to hopefully take next weekend. Our obsession with how are going to make our apartment look has gotten so bad that we even made a
Pinterest board
to keep all of our ideas straight.
My new ring
But I'm still so proud.
So that makes it OK. Right?